Youth Ministry at DFUMC
He saved us, not because of righteous things we had done, but because of his mercy.
He saved us through the washing of rebirth and renewal by the Holy Spirit.
Titus 3:5
Important. Included. Engaged.
The mission of Renew Youth is to develop and grow each student's relationship with Jesus by engaging all youth in meaningful service, activities, and discussions, challenging students to push beyond their norms, and to be agents of change in the world.
Schedule
Sunday | 10 am-Not Currently Meeting Due to COVID
All students are invited to eat breakfast together at our cereal bar in the Youth Activities Center (YAC). After announcements and an opening activity, students are split up into middle and high school groups. Students participate in large group discussions based on current events and how these events might bring up hard questions related to the Christian faith. Students and leaders explore the answers to these questions and how they might live out a Christian life in an ever-changing world.
Wednesday | 7 pm
All students worship together and listen to a large group message. Then students split into one of four small groups, one for each grade range and gender (i.e. Middle School Boys group), where they will discuss in-depth questions related to the lesson. These discussions encourage students to ask hard questions about faith and allow them to explore ways to grow in their relationship with Christ.
Events
We offer special events and retreats several times each school year. Regularly occurring events like Prayer Breakfast, Servant Saturday, Game Nights, and Renew Extras break us out of the routine into fun and exciting moments; while bigger and crazier events Winter Jam, Ski Trips in the winter, Beach Trips like BigStuf in the summer, Retreats to Camp Glisson, or gigantic worship conferences in Gatlinburg give us a chance to escape the ordinary and truly dive into the extraordinary that is God's creation.
Upcoming Events
Stay Connected
Meet our Director of Youth Discipleship
Paul Mosley was born and raised in the United Methodist Church. He is a child of a Methodist minister and a teacher and is the youngest of three. Paul graduated from LaGrange College in 2014 with a BA in Art and Design. Paul and his wife met while he was at LaGrange College. They have two young sons.
His life scripture is Isaiah 40:31 and his driving mission is "to create a place where students are radically accepted and feel the unconditional love of God."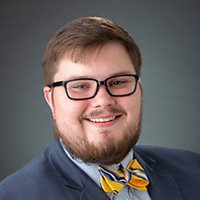 Got questions?
If you have further questions concerning our Youth experience, simply click the button below and get in touch with us!