At DFUMC our kids (Kindergarten through 5th grade) experience safe, age-appropriate environments where they learn about Jesus in a creative and relevant way.
When you entrust your child to the DFUMC Kids' Ministry, we want you to know that safety is at the forefront of our minds. With this in mind, we utilize a secure electronic check-in system, which gives the parent/guardian a matching sticker that must be used when picking up his/her child. We also ask all parents to fill out a registration form, which includes emergency contact information and any known allergies.
All staff and volunteers have passed a criminal background screening and have completed Safe Sanctuaries training. Finally, we have a volunteer security team onsite Sunday mornings and Wednesday evenings. We strive to keep your child's learning environment and our greater congregation a safe place to experience the abiding love of God and fellowship within a faith community.
Meet our Kids Ministry Director, Jessica Suh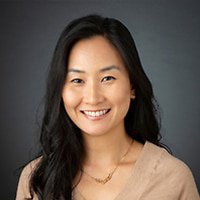 How check-in works
Before Service: You can check-in your child at the station in the Children's area. You and your child will be given matching name tags that are exclusive to your family and your visit. Your child will need to wear the name tag portion while you hold on to the matching tag.
After Service: After the service is complete, you will return to your child's room and show your tag in order for your child to be released back to you.
During Service: In the event that we need to contact you during the service, your child's identification code will appear on the screen. We ask that you return to the appropriate area immediately.
Schedule
Kids' Sunday School | 10:00 -11:00 am
Our kindergarteners through fifth graders are divided into Sunday School classes, based on grade level, where they delve into God's Word through story, discussion and fun activities. Classrooms are located on the second floor of the A-building.
K-2nd graders will meet in the Green Room
3rd graders will meet in the Yellow Room
4th-5th will meet in the Blue Room.
Kids' Church | During 11:00 am Worship-NOT CURRENTLY MEETING
Kids' Church is available for kindergarteners through fifth graders at 10:45am and 11:00am (every Sunday except Communion Sundays).
This time together is spent creating fun and meaningful relationships and experiences, learning to love God and shine brightly!
Kids' Wednesday Night Program | 6:30-8:00 pm-NOT CURRENTLY MEETING